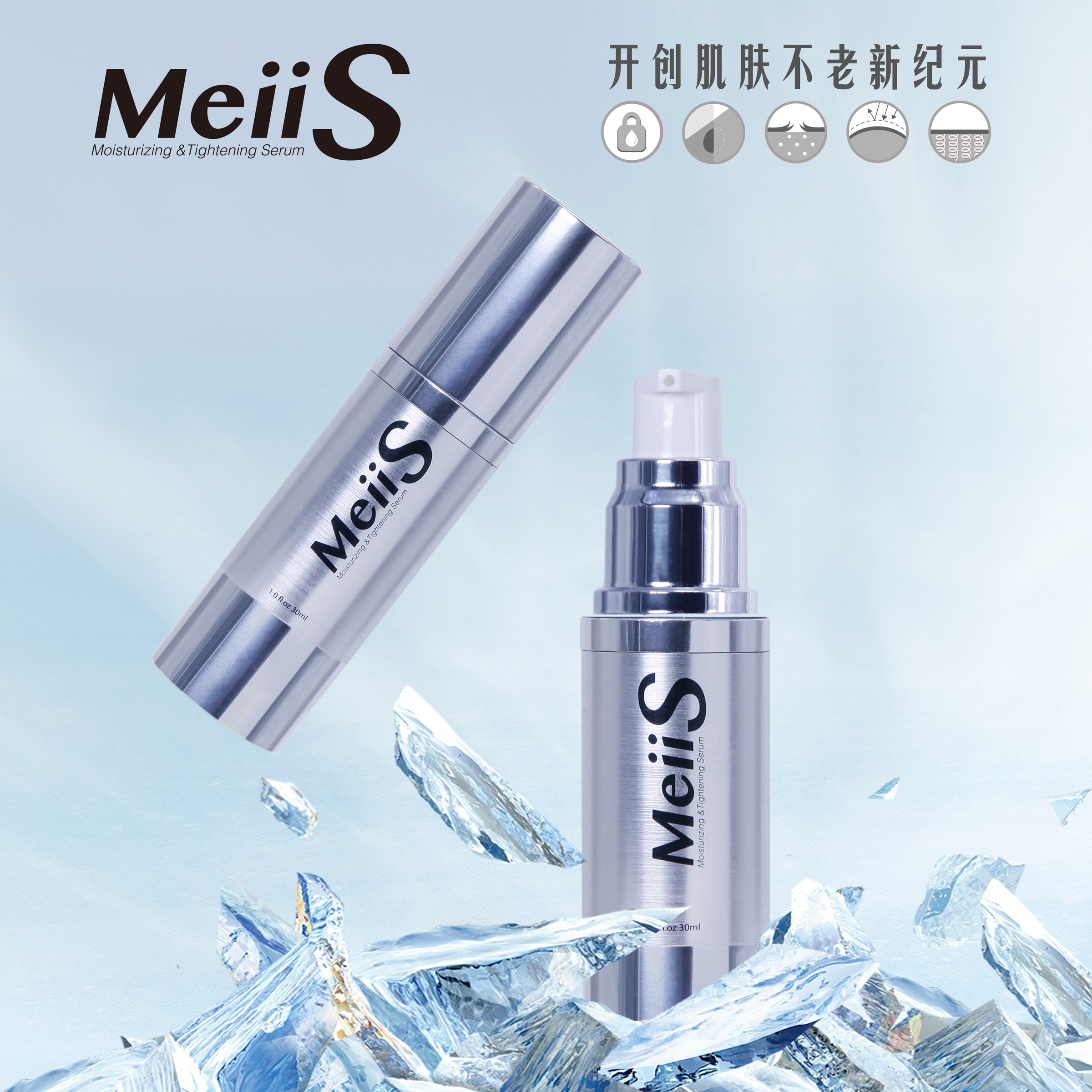 MeiiS Moisturising & Tightening Serum
Moisturising & Tightening Serum
The MeiiS Moisturising & Tightening Serum is an anti-aging face serum that delivers skin-plumping hyaluronic acid directly to your skin to ensure younger-looking appearance.

This specially formulated serum is made with a combination of natural extracts and powerful antioxidants. The serum also helps improve ageing skin's elasticity to promote firm and younger looking skin.

The serum can also help improve uneven skin tone by reducing dark spots to brighten overall skin tone.
- Perfect for all skin types.
- Delivers all-day hydration.
- Corrects uneven skin tone and lightens skin tone
- Intensive nourishment for healthier skin.
- Promotes radiance for dull skin.
- Promotes skin regeneration and skin elasticity.
美S活肤紧致高玻尿酸精华素
美S活肤紧致高玻尿酸精华素,为您的肌肤直接注入玻尿酸,让您的肌肤恢复Q弹,常保年轻外貌。
美S由天然萃取物与强力抗氧化剂组成,能抗老化、加强肌肤弹性,让您的肌肤更健康,更年轻。水性的美S不油不腻,迅速干透,上妆前使用十分方便,它还能有效淡化黑斑,提升整体肌肤的明亮度,改善肤色不均的问题。
- 适用于所有肌肤类型。
- 全天候为肌肤提供水分。
- 矫正肤色不均并提高肌肤明亮度。
- 为肌肤补充营养,促进肌肤健康。
- 提升肌肤光泽,摆脱暗沉。
- 促进肌肤的再生和弹性。
How To Apply
After cleanser and toner, warm a few drops of the Meii S on your palm and massage gently onto your face while avoiding the eye area.
使用方式:
在清洁脸部并使用化妆水后,滴几滴美S在您的手掌心,闭上双眼,将美S抹在脸上轻轻搓揉即可。
Ingredient List
Allantoin, Sodium Hyaluronate, Hyaluronic Acid, Punica Granatum Flower Extract, Niacinamide, Tocopherol Acetate (Vitamin E), Glycyrrhiza Glabra Root Extract, Adenosine Triphosphate.
成分:
尿囊素、玻尿酸钠、玻尿酸、石榴花萃取、烟酰胺、醋酸生育酚(维生素E)、甘草根萃取、三磷酸腺苷。
Distributed by MeiiShop Berhad.
NPRA No.: NOT170604040K
制造商:MeiiShop Berhad (1222044-A)
大马药剂监管局(NPRA)注册编号:NOT170604040K


Test Report 成分测试 :

*Only available in Malaysia.

*Results from the use of beauty product above may vary depending upon the individual and will depend on multiple factors, including your age,gender, skin type, and condition, use of the other products used, health, lifestyle, diet and others.
*本品功效取决于各种因素,包括年龄、性别、肌肤类型、健康状态、生活方式、饮食情况,以及您同时在使用的其他产品所产生的效果, 因人而异。