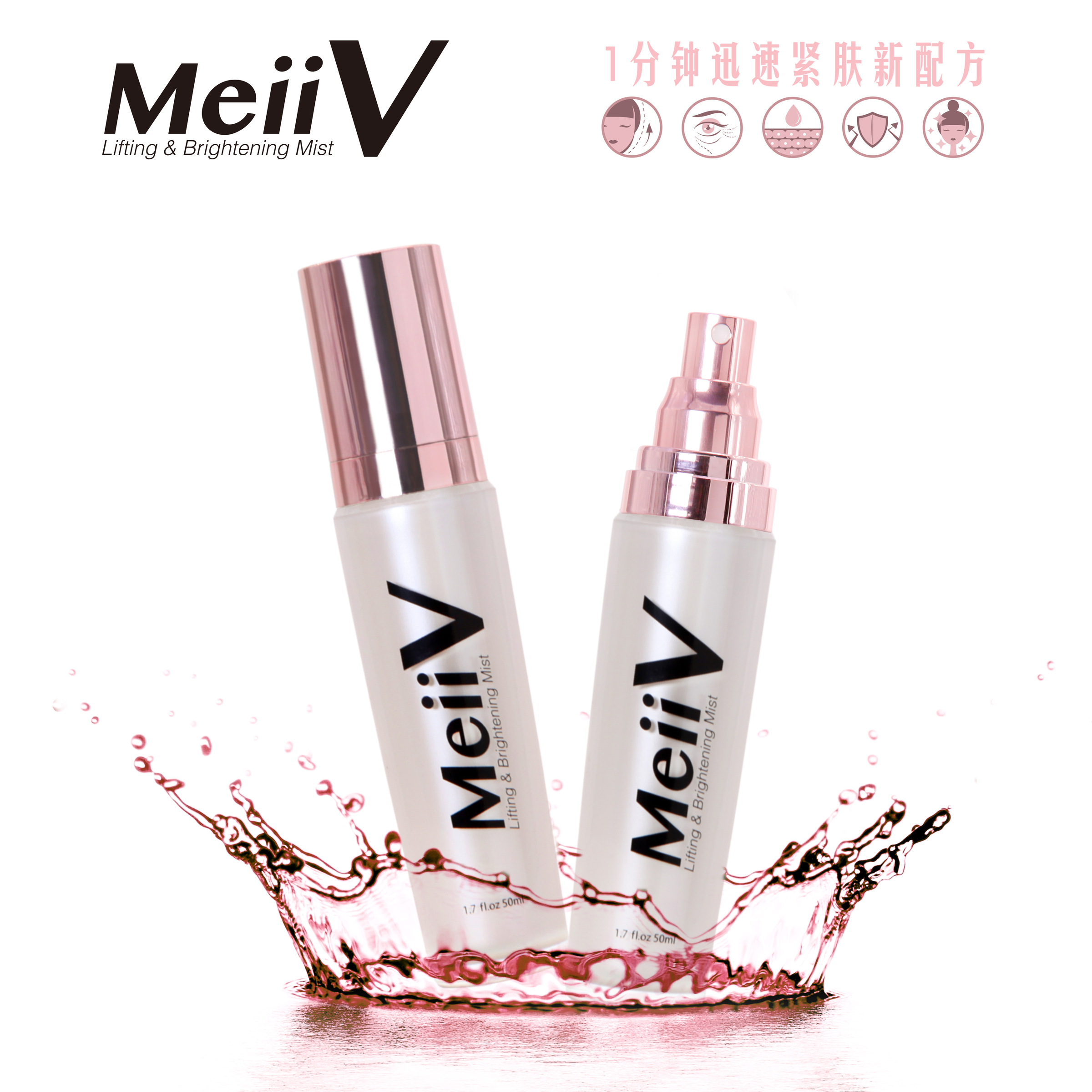 MeiiV Lifting & Brightening Mist
Lifting & Brightening Mist
A major breakthrough in skin care science, this premium MeiiV mist has a significant INSTANT LIFTING effect. It's magical mist.And It's able to last for 8 hours.
- Perfect for all skin types
- An instant tightening & lifting effects
- Reduces skin wrinkles
- Improve skin hydration & regain it's crystal-clear radiance
- Defends skin from external irritants and the signs of aging
- Refine skin texture & tightening pores
美V极速紧致亮白喷雾
本品的研发是皮肤护理学史上一项重大的突破,美V能迅速带给您显著的紧致与亮白的效果并维持长达8个小时。
- 适用于所有肌肤类型
- 瞬时紧致肌肤,呈现V脸效果
- 淡化皱纹
- 补充肌肤水分,让肌肤恢复细白透亮
- 保护肌肤免受外部刺激,减缓老化
- 细致肌肤,细致毛孔
Usage Notice
After cleanses and tone, spray Meii V mist evenly on the face and dap for quicker absorption, followed by serums or moisturizer. Avoid eyes area.
使用方式:清洁脸部后,闭上双眼,将美V均匀地喷在脸上(可轻轻往上拍打以助肌肤更快吸收),之后再使用精华液或滋润霜。
Ingredients List
Allantoin, Aloe Barbadensis (Aloe Vera), Sodium Hyaluronate, Avena Sativa (Oat) Kernal Extract, Kojic Acid, Camellia sinensis leaf extract, Tocopherol Acetate (Vitamin E), Potassium Azeloyl Diglycinate, Dipropylene Glycol.
成分:尿囊素、芦荟、玻尿酸钠、燕麦籽萃取、麹酸、山茶叶萃取、维生素E、壬二酰二甘氨酸钾,二丙二醇。
Results
*Results from the use of beauty product above may vary depending upon the individual and will depend on multiple factors, including your age, gender, skin type and condition, use of other products used, health, lifestyle, diet and others.
注意事项:本品功效取决于各种因素,包括年龄、性别、肌肤类型、健康状态、生活方式、饮食情况,以及您同时在使用的其他产品所带来的效果,因人而异。
Test Report :

**Only available in Malaysia.
Distributed by MeiiShop Berhad. NPRA:NOT170702358K